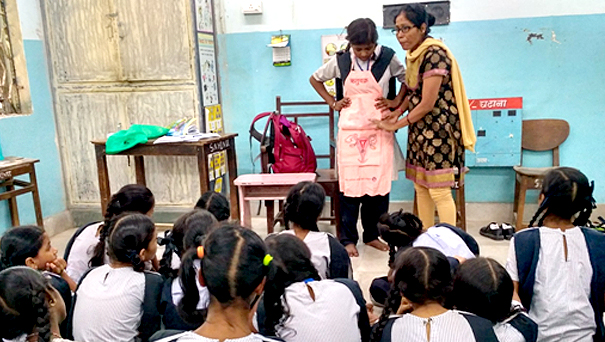 2015- On going
Partners:  Westwind Nursery/ StreeBal Shakti
WHEELS Global Foundation
American Jewish Women's Service
Stitching DIDA
Looking at spates of violence against women in various forms happening continuously in the past two years, and finding its genesis in the subject of menstrual health and Hygiene, picked by a group of Mumbra girls for the Youth Fellowship, PUKAR, in collaboration with Stree Bal Shakti, a CSO tending to women and children, launched a timely new project "Journey Towards Dignity" in September 2015. This project aims at empowering some of the most marginalized adolescent girls attending local municipal schools in growth and development, pubertal changes, nutrition, menstrual health and hygiene, send gender and gender violence When it comes to women and their health, especially their sexual and reproductive health, myths and misconceptions have been reinforced through generations, and we are now conditioned to believe them. To break these myths and to created knowledge based, informed choices, PUKAR decided to start educating adolescent girls from the Municipal Corporation of Greater Mumbai (MCGM) that draw the poorest and the poor students from some of the most marginalized communities around the suburban Mumbai. This project aims to empower adolescent girl students enrolled in class 7-8 with knowledge related to their coming of age, including physical and emotional changes, the onset of menstrual cycle, importance of menstrual hygiene, sex and gender, identity issues related to each and its impact on their future health, gendered identity, sexuality and gender-based violence.
| | | | |
| --- | --- | --- | --- |
| JTD | Schools | Communities | Number of participants |
| 2015-2016 | 3 | 0 | 37 |
| 2016-2017 | 6 | 3 | 293 |
| 2017-2018 | 7 | 2 | 342 |
| 2018-2019 | 10 | 4 | 450 girls,200 boys |
| | | TOTAL | 1322 |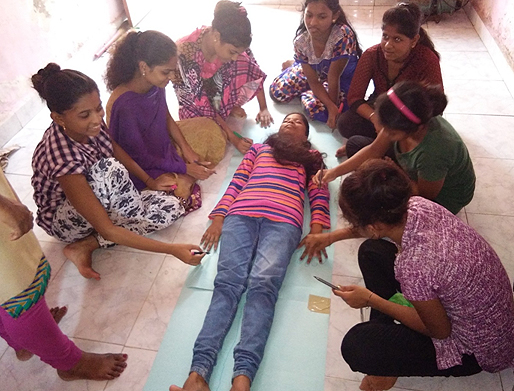 They need to decide the course they want to take, to know their options, and to understand the distinctions between the factors that promote their sense of self-worth, emotional and physical well-being, and those that are detrimental to them. Although the work has so far focused on adolescent girls and some college-going male youth, PUKAR envisions a program that reaches out to an equal number of boys. Not only will this help in creating a receptive ecosystem, but it will also enable the project to have a more sustainable impact. In order to achieve this impact, PUKAR has assembled a Team of facilitators who have been trained by resource people with the domain expertise. They get refreshers training every year. They first have to obtain permissions from the Municipal Corporation of Greater Mumbai(MCGM)  educational department to conduct this training that is done outside of the classroom times and curricular mandates.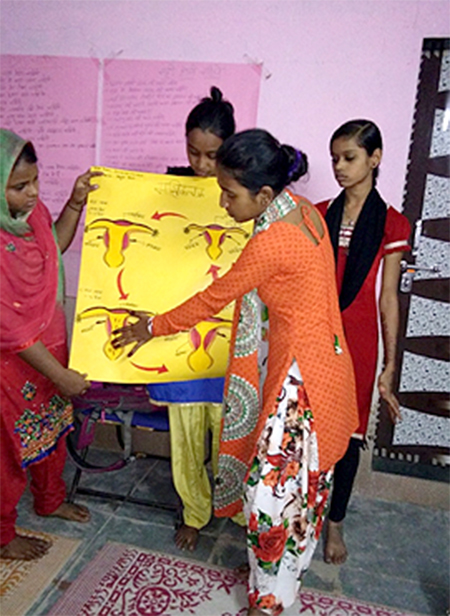 BMC school girls sharing what they learnt about menstruation.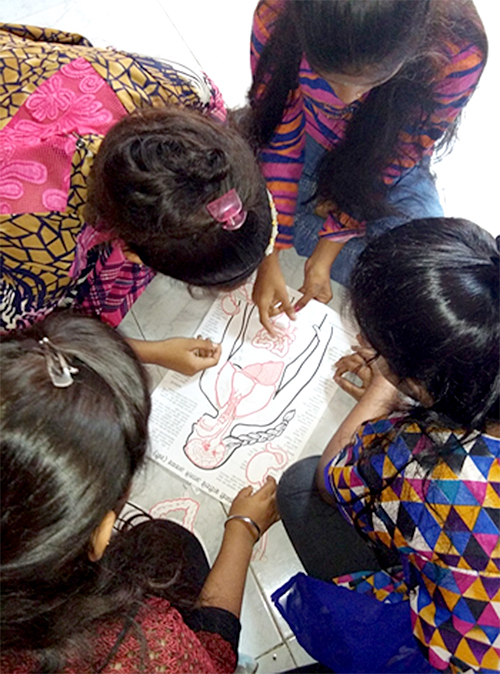 Girls learning to draw body organs and learning their respective functions. The facilitators first conduct parents' meetings and obtain their consents for this course. Then the facilitators conduct 22 activity-based workshops designed by them specifically to incorporate all the subjects from self-identity, body literacy, and menstrual cycle to relationships and gender violence. Workshops are conducted every Saturday at the school premises for 2 hours followed by a dialogue and included many creative instruments like theatre and poster making to make it easy on the girls to talk about these difficult and taboo subjects.  Each workshop consists of a pre- and post- evaluation of the contents of the workshop and students' knowledge gained. Parental meetings also form a part of this empowerment strategy. Similar activities are conducted in various communities where needs are expressed and parental cooperation is obtained.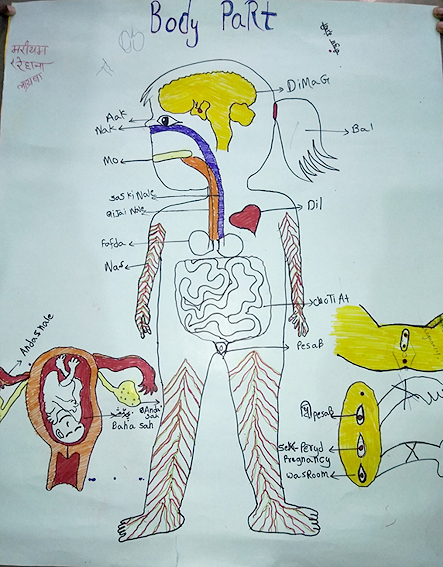 For
the year 2018-19 the JTD Team will be working with more than 500 + girls in 13 government schools. 
Many of them being 7
th
grade students, still cannot read and write to their grade level and besides their school and their communities, they have never stepped out to see the outside world.  We hope to bring some positive changes to their lives through knowledge and play.