Information for All-E-Governance for All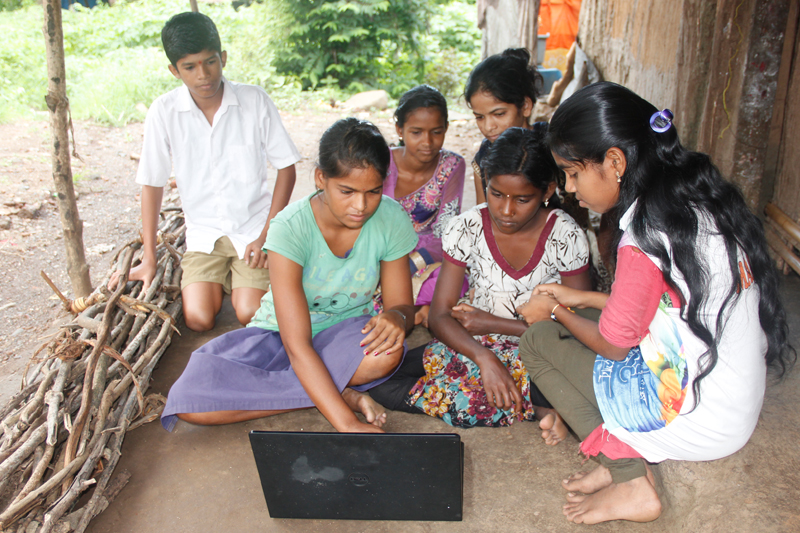 October 2015 to September 2018
Supported by Azim Premaji Philanthropic Initiative 
In the current information age, Internet, with its enabling, facilitating and wealth creating potential, it has become a powerful enabler to enhance the quality of life by brining equity in many spheres. The key barriers to digital inclusion are lack of affordable access , poor  quality or absent last mile infrastructure,
lack of digital literacy, and lack of awareness about the benefits of internet access.
Many poor tribal of India are landless laborers and daily wage earners who end up taking time off from their daily work in order to visit taluka places to acquire certificates or schemes. The execution of 73
rd
Amendment demands participation of villagers in Gramsabha. This forum is a powerful platform for the villagers to bring their concerns to the attention of the Grampanchayat members for improved governance and also keeping checks and balances on the policies and expenditure of the Gramsabha. Our past experiences have informed us that women stay out of all these democratic processes
due to lack of agency and knowledge.
Concept:
Just giving Internet access to villagers was not going to increase their participation in digital literacy and reduce the digital divide. What was equally important was the knowledge related to the importance and ease of using Internet for many of their day to day activities like bill payments, land records and other certificates, scholarships and usage of various schemes like Awas Yojana, Widow's Pension. How using internet through the kiosks or phones of their children could actually save them money and time was both intimidating and exhilarating knowledge for the Adivasi folks. The idea of not being humiliated at the hands of officers at various Taluka Government offices where the Adivasis had to make multiple trips spending their daily wages, was very alluring to everyone involved and they all were eager to learn this magical facility. SHG women, school children, Adivasi from distant Padas..... everyone wanted to get on the E-Governance Knowledge bandwagon.
Location:
        District:                       Palghar Taluka (Blocks):           Palghar Villages:                       14 Total population          15398 (2011 Census)
About Palghar
Palghar, a recently minted (August 2014) tribal district in state of Maharashtra is about 120- 140 KMs north of Mumbai city along the Mumbai-Ahmedabad highway. Skirted by Gujrat on the north and northeast and Nasik district of Maharashtra on the west, Palghar is home to landowners belonging to Agri and Kunabi ethnicity (OBC) and tribal (Adivasi)* form the agricultural labour toiling in these lands. Palghar has 8 blocks which covered 880 villages- 473 Grampanchayas. Total population of Palghar district is 4179553. Adivasi: Adi means first, Vasi means Inhabitants. Indigenous people, Natives. Each village has separate hamlets for the tribal folks called "Pada" Compared to the rest of the villages, the Adivasi hamlets are poorly developed with absent infrastructure and services. The major industry in addition to agriculture is sand mining from the riverbed. Many youth work in nearby industries as daily wageworkers.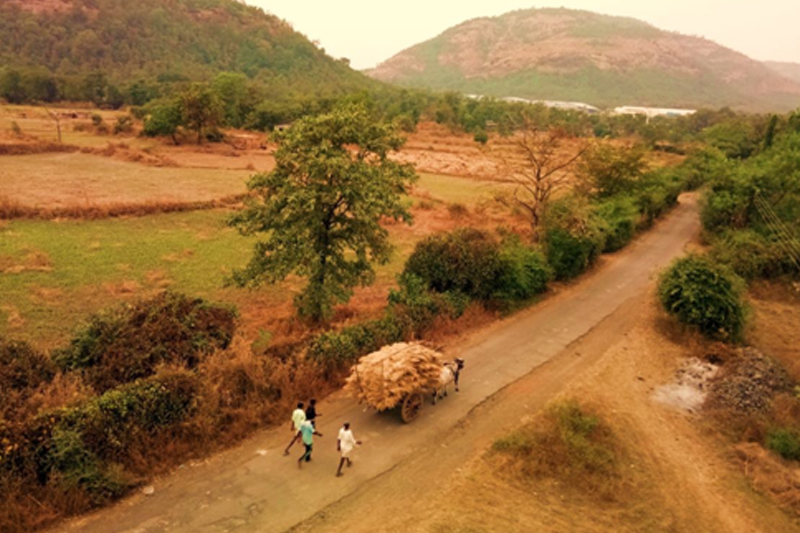 Village Names:
  Pochade, Tamsai, Netali, Chahade, Vasare, Khadkoli, Vishrampur, Tandulwadi, Uchavali, Pargaoan, Nagave, Sakhare, Dahisar, Gundave
Change Agents:
E-Sevaks
Concept of E-Sevaks: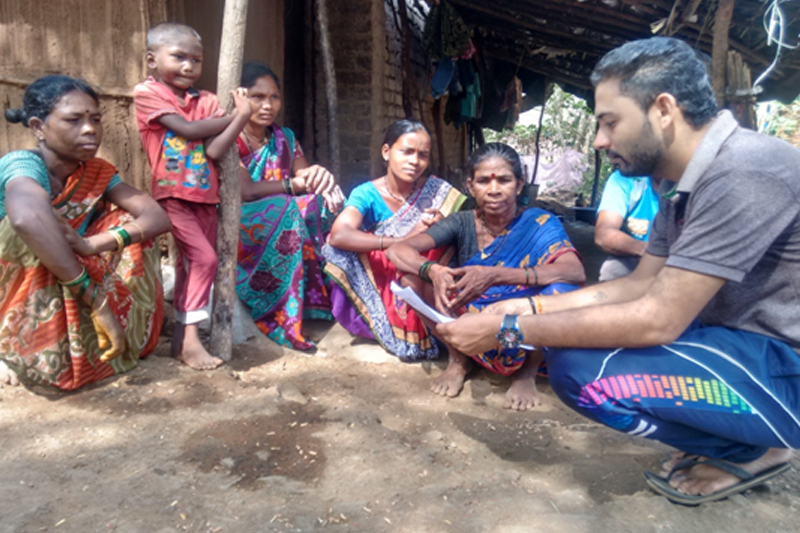 PUKAR has innovated the concept of E-Sevaks based upon PUKAR's 10 year old, globally validated concept of Barefoot Researchers. This concept basically involves Community Based Participatory Action Research (CBPAR) conducted by the community based youth who are trained in conducting research on their community including needs assessments, analyze the results and based upon the evidence found, implement an action that bring about the change in their community. Drawing upon Professor Arjun Appadurai's essay "Right To Research", anchored in the principle of 'experiential learning', this concept uses CBPAR as a tool for alternative pedagogy, advocacy for and interventions in the community and transformations. This approach enables youth to become leaders and change-makers in their communities. PUKAR's past experience has informed us that this unique process of knowledge creation through multiple epistemologies and community-based action-research from the lens of the youth has a strong transformative power for social change in the youth, their families, and communities. The youth become critical thinkers, conscious and assertive citizens and leaders of their communities, thus enhancing the quality of life for themselves and their communities. E Sevak is the extension of the same innovation.
Process / Activities:
We recruited 36 local youth from the these villages. Care was taken to maintain gender balance, ethnicity balance and spatial balance with representatives of each Adivasi hamlet being recruited as team members. This process of recruitment and training brought all these youth under one umbrella for the first time and helped to break down many barriers within them, of caste, gender, tribal identities, culture, language, education etc. We trained the community-based youth to be E-Sevaks. They were trained in  ICT, research and 65 + Governance, E-Governance so that they are able to communicate, educate and help their communities in issues related E- governance, governance and working of Grampanchayat. Our E-Sevaks were very busy going from Pada to Pada with their mobile kiosks mounted on their two wheelers, gathering people for demonstrations of a scheme step by step on LCD projector and helping people to understand, apply and accrue benefits. Some people received loans for homes, widows started receiving pensions, children got scholarships, they could pay their bills of 400 Rs. without spending 400 Rs. on transport and food and loosing daily wages! And all this without going to the Taluka!!!!! That was almost miraculous for them. Empowered with the knowledge of their own village's demography, topography and socio- economic status acquired through mapping and door to door education, the E-Sevaks attended the Gramsabhas, the Chavdi Sabhas in huge numbers, raised issues on behalf of their villagers and even became consultant to some Grampanchayat for disbursing funds of the 14 the Finance Commission, thus becoming non-elected benevolent leaders. PUKAR Core Team worked diligently towards strengthening democratic systems by organizing voters Id camps and created demand for better governance by creating Aadhar Card camps, Pan Card camps, Financial Inclusions Camps etc.
Key Milestone Achieved of  the Project:
65 + modules of governance and E-governance schemes and services: PUKAR created video modules of various 65 + modules of governance and E-governance schemes and services like financial inclusion, bill payments, subsidies, getting documents and certificates from government etc. E-Sevaks went door to door or-and organised community awareness events to deliver these modules to villagers.
14 Computer kiosk (E-Seva Kendra): PUKAR ran 14 computer kiosks with collaboration of Grampanchayats. There were two types of computer kiosks – fixed and moving. Fixed computer kiosks were located in Public places like Grampanchayat offices, community halls etc and moving computer kiosk meant E-Sevaks had to carry all the instruments of kiosk to various Adivasi hamlets to deliver E-services to tribbles.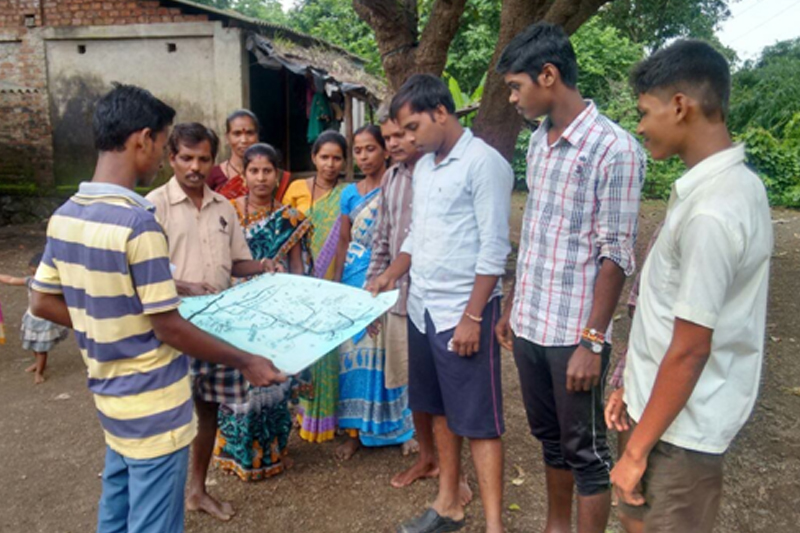 Number of services provided on 14 computer kiosks through duration of the project: 65 thousand +
Developed eco system between villages and grampanchayat for strengthening local democracy with improving villager's participation in gramsabha (Village meetings).
On the Governance front, our Team revolutionized the very idea of women empowerment by building capacities of SHG women not just in ICT and E-Governance but also on importance of them attending the Gramsabha and raising their concerns about their villages and their needs. Women took this up with great fervour and felt emboldened to realize the power of their numbers and their demands.
360 women who were trained in ICT-Governance
Most pioneering idea was the PUKAR Help Line. Any question related to any scheme was responded to within 48 hours through the Helpline (8007463464) helping people with anything from how to get a marriage certificate to where to find subsidy for seeds. Every day one Coordinators slept with that phone and responded to every call in mandated time of 48 hours. Every call and response were recorded and documented, thus creating a huge data base for future government use. Needy villagers called from as far as north Maharashtra and Gujrat as well.
Formulate 2 co-operatives of E-Sevaks: - PUKAR created two co-operatives- Unnati & Dnyanvistar of E-Sevaks in June 2018. 'Unnati' co-operative is run by Female E-sevaks and 'Dnyanvistar' run by male E-sevaks. Both these co-operatives provided e-services like PAN card, voter registration & Aadhar Pan link in village level camps in Palghar district which is a one of the tribal district in Maharashtra. These co-operatives conducted 63 E-Services camps
Idea behind of these co-operatives work is to provide e-services at villagers door steps at reasonable rate and stop their money exploitation, reduce their dependency on middle man (agent) and save their time and travel cost which they pay for going to district place for accessing these services. https://www.youtube.com/watch?v=pZSHxb5i-7I&t=13s https://www.youtube.com/watch?v=TJ00ByKoIis&t=7s https://www.youtube.com/watch?v=drtZ6dnWMNY&t=37s