Diploma/Certificate course in Community Based Participatory Research and Advocacy (CBPAR), accredited with TISS, Mumbai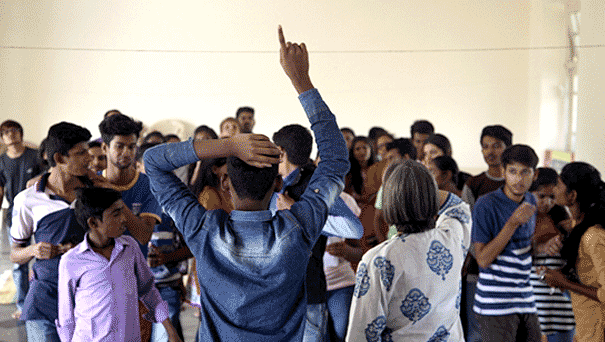 A unique opportunity offered by PUKAR for Mumbai's Youth to understand and experience the city through research. This is a year-long activity-based weekend course which offers an avenue to identify, understand and study the issues of local communities. The course aims to nurture the knowledge, talent and passions of youth and promotes their right to research. The knowledge which they create at the end of the course also gives them confidence to become informed thinkers and leaders of their communities. The project is running successfully for 14 years now and since 2015 it is offered as certificate course accredited by Center for Life Long Learning (CLL), a department of TISS, Mumbai. We are very pleased to revise the course as a diploma program in a compact form. Based on our decade-long experience of engaging with diverse sections of youth, and their own involvement and understanding through this process, we now extend the existing scope and structure of the year-long fellowship project by designing it as a diploma course.
Recognized by the Centre of Lifelong Learning and Tata Institute of Social Sciences (TISS), it fosters PUKAR's core principles of empowering communities by involving youth in the change-making process and bears semblance to the principles that TISS as an institution is also anchored on. This collaboration gives youth the opportunity to be validated by two significant research institutions. Through this proposed model, we wish to continue involving youth cutting across socio-economic-cultural hierarchies and enable them to use research as a means to stand between policy and practice. The course uses experiential learning and participatory pedagogies to make learning more effective and transforming. Thus, the course has flexible design which aims at inclusion of adult learners who come from diverse backgrounds and offers multiple exits at different stages.
Based upon the seminal essay "Right to Research" by renowned anthropologist Professor Arjun Appadurai, PUKAR's founder trustee, the Barefoot Researcher Movement was born out of PUKAR's flagship Youth Fellowship Programme.  This essay advocates democratization of research, knowledge production, knowledge ownership and aims to change the profile of the researcher thus challenging the prevalent wisdom related to research and pedagogy.
Since its inception in 2005, the Movement has enabled nearly 3,500 youth to channel their inner researchers, and has provided a platform for the publication of 300 original research projects. The community youth have engaged in community-based participatory research to study everyday realities through the thematic lens of livelihood, gender and sexuality, education, health, culture, governance and environment. The idea behind creating a diverse Barefoot Researchers' pool is to bring to the center voices that are muffled in everyday life of the city. Thus, there are groups, who have been sidelined by virtue of their sexuality, disability, caste, class and other socio-economic factors, who are welcomed on board this project. The thrust of the programme has consistently been to create a repository of knowledge that emerges by and from the everyday lived experiences of the youth.  In fact, PUKAR's engagement with the youth fellows never ends with the project year. Over the years, PUKAR's alumni have become a rich source of knowledge for the existing cohorts. They come back donning the hats of workshop facilitators, mentors and resource persons and facilitate learning of new fellows.
OBJECTIVE OF THE COURSE
The course aims to make the marginalised youth a repository of local knowledge. Through skill-based training, discussions and participatory tools through activity-based learning, the youth begin to look at their everyday lives through an alternative lens. The discussions on social institutions and events enable them to become more informed stakeholders. PUKAR's focus on community-based participatory research is in a way, a means for the youth to work with communities, and not for them. Thus, the insider's lens that they wear as researchers makes them look at their own lives more critically.
This process is set apart from other such research initiatives, because it believes in the values of the collective and so all research studies are done by groups of youth from the community. The organic knowledge created through their action-research in turn, often makes a significant contribution to the development of sustainable, inclusive cities. Simultaneously, the knowledge the youth are trained and motivated to create in turn, builds alternative ways of rewarding their academic and activist impulses. We invest into a research fellow to see him/her transform into not only a good researcher but also a critical thinker who can then take an initiative to ask, consult, build perspectives, collaborate with people and make a difference in the existing situation.
ALTERNATIVE PEDAGOGY
The methodology adopted for the year-long course can be broadly categorised based on the focus the programme lays at every level. At present, we follow a very inclusive and intensive model, which enables a two-way interaction between the youth fellow and his/her research community. Drawing from this interactive model, we intend to stick to our very core principles focusing extensively on experiential learning, community engagement, peer learning, field exposure and thereby, use research as a method and means for investigation and transformation.
Spread over a period of one year, the programme is executed through a series of workshops, for theoretical input, and group meetings, to verify each participant's understanding. In the workshops, discussion and dialogue are encouraged to strengthen conceptual understanding and provide a strong foundation to the topics through the lens of their own experiences. These workshops are conducted by a set of experienced resource persons (academicians, journalists, researchers and activists), who further help them in structuring their research study.
At the same time, equal emphasis is given to fieldwork to ensure that learning is not only restricted to the intake of knowledge but extended to practice in their communities. It is here that the youth put to use the multiple skills they have learnt at PUKAR during the course of data collection.  Their field engagement plays a pivotal role in shaping their research as well as their own perspectives. In fact, at the end of the programme when the youth go back to their communities to share their research findings, they are able to create larger awareness and advocacy.
Divided into five phases;  i) self,  ii) participation and teamwork, iii) communication,  iv) research & critical thinking and v) community engagement,  the programme lays emphasis on peer learning, cross fertilization, creativity and innovations. Through intensive training sessions and fieldwork, the youth participate in capacity building workshops (four full working Sundays) and engage with their research (two half weekdays per week) every month for one year.